---
---
Conveyors and Material Handling Equipment

Troughed Belt Conveyors, Screw Conveyors and Drag Conveyors are commonly used for handling of bulk materials. Although these conveyors are designed to industry standards, they are almost always custom engineered. Design variables include overall configuration, size and capacity, angle of incline, speed and various auxiliary equipment such as chutes, transfer towers, walkways and service platforms. Transdynamics has designed and supplied a large number of such systems, some as shown below. Transdynamics also designs and builds heavy-duty Roller Conveyors for handling drums, baskets and pallets.
---
| | |
| --- | --- |
| Troughed Belt Conveyors are the workhorses of industry, able to carry practically any kind of bulk material. | Typical Belt Conveyor Drive with shaft-mounted reducer. |
---
| | |
| --- | --- |
| Transdynamics Belt Feeder. Belt Feeders are an alternative to more expensive apron feeders in many applications. | Transdynamics designed Radial Stacker used for stockpiling screened material. |
---
| | | |
| --- | --- | --- |
| Transdynamics Coil Chain Drag Conveyor, also called Ship Chain Drag, works well for transporting very abrasive materials. | This Transdynamics Self-Unloading Bin has a live bottom consisting of five screw conveyors. | Screw conveyors are used in many special applications. This Stainless Screw Feeder is designed for transporting peanuts. |
---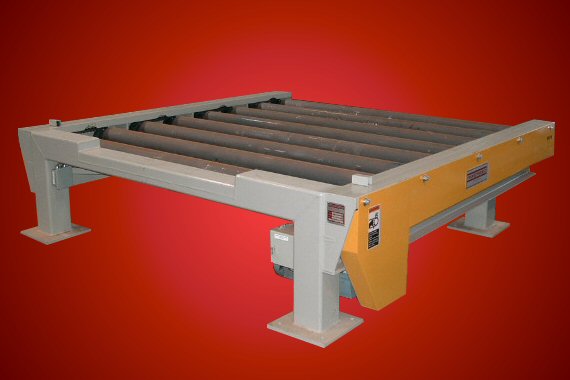 Heavy-Duty Roller Conveyor with chain-driven 6 inch diameter rollers designed to handle steel baskets weighing 6000 lbs.
---
© Transdynamics Engineering Limited
March, 2015.